Goodell Gardens Farmers Market
Farmers Market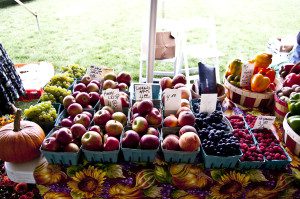 Goodell Gardens Farmers Market is held each Wednesday from 3-6 pm, from mid-June through September!

Past vendors include:
Beelzebub's Salsa, Cambridge Springs – six varieties of fresh salsa, pickles and mustard eggs
Better Thank Sticks, Erie - healthy, homemade dog treats
B & R Greenhouse, North East – Heirloom veggies, annuals, herbs
Byler's Relish House, Saegertown - jams, jellies and relishes
Gilmore's Farm, Waterford - grass fed and finished beef
Hurry Hill Maple Farm, Edinboro – maple syrup and maple products
Laughing Hill Farm, Wattsburg - heirloom, unsprayed, organic apples, and veggies
Lepley Ham Loaf, Franklin - ham loaf and ham salad
Lil Bit' O' Honey, Edinboro – local honey
**Peace by Piece Farm, Waterford – fruits, veggies, honey, cut flowers
Pine Run Farm, Conneautville – frozen chickens and eggs
Rain Tree Farms, Cambridge Springs - blueberries
**Schultz Farm, Saegertown – fresh-cut herbs and flowers, fruits and veggies
Showman Farms/Conneauttee Creamery, Edinboro –artisan cheeses: Gouda, Havarti, Jarlsburg and more
Sticky Foot Acres, Saegertown - goat milk soap
Strawberry Lane Produce, Conneaut Lake - berries, veggies, greens and fruit
**Tender Acres Farm, Cambridge Springs - carrots, beets, cucumbers, cherry tomatoes, onions, new potatoes and sweet potatoes
**The Teed Farm, Albion - veggies, herbs and bath & beauty products
**Vanco Farms , Edinboro– peppers, tomatoes, zucchini, cukes, and more
  **Indicates participation in FMNP or SFNP

Offering produce, meat, cheese, eggs, honey, baked goods, maple products and more, residents might even be able to plan an entire meal from purchases from our vendors – complete with dessert!
Again this year, select Goodell Gardens Farmers Market vendors will accept the Farmers Market Nutritional Program Vouchers that are offered to eligible senior citizens and WIC recipients. For more information about these vouchers, or to receive your vouchers, contact your WIC office, or seniors call (814) 756-5373. The Farmers Market Nutritional Program is offered by the Pennsylvania Department of Agriculture. Goodell Gardens Farmers Market vendors also accept SNAP payments for the purchase of food, veggie starts, herbs and seeds for growing food. To find out how to use your EBT card at our market, please stop by the Goodell Gardens Headquarters Booth, and our staff will assist you with making your purchase. 

The market will be held in the Events Barn and the surrounding events lawn, which is situated within easy access to our parking areas.

For more information call (814) 734-6699 or email info@goodellgardens.org.